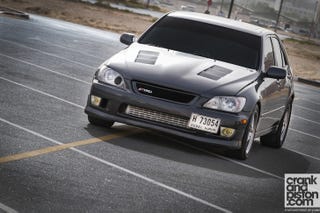 Forget for a moment all the fuss being made about the Toyobaru FRSGT86BRZ as we travel back in time to the late 1990s when Toyota made a genuinely awesome car then failed to capitalize on its awesomeness. The car in question was the XE10 and it is an underrated gem in the Toyota back catalogue.
The Ueno Yoshio Kanto design was super-sharp with lots of unique styling pointers – yes, this is where the Lexus light cluster originated – and still looks fresh today. However, the exciting thing about it was that Nobuaki Katayama was the chief engineer on the project and Katayama-san has always had the Midas touch.
A former racing driver and a European executive in Toyota's Motorsports division, Katayama-san had been involved in everything from Toyota's WRC involvement to Le Mans racing. He was also an engineer on the AE86 and chief engineer of the Mark IV Supra. Let's just say that the dude was qualified to take on the project.
Katayama-san delivered the goods, just as his curriculum vitae would have suggested, and another win was chalked up. The XE10 was a finely balanced front-engined, rear-wheel drive hoon machine that put the spirited Toyotaku back behind the wheel of a proper driver's car. Except, everything didn't exactly go to Katayama-san's plan.
For export markets, the production model was badged as a Lexus IS 200, an entry-level luxury car to compete with European marques and, although it was extremely successful, it never lived up to the die-hard Toyotaku's expectations. The Lexus luxuries of quality cow-hides and trimmings added unnecessary weight but the main beef with the IS 200 was the engine choice.
The 2-litre, straight-6 'G-Series' engine began life back in 1979 and even the 1G-FE variant that found its home under the IS 200 bonnet was a slightly tweaked ten year old design. Chosen for its reliability and smooth power delivery, it just seemed a little lackluster pumping out its smooth and reliable 160hp in 1998 when the Lexus IS 200 debuted. A move in the right direction was made for the IS 300 with a 2JZ-GE taking over proceedings with an output of 220hp seeming rather more healthy. However, the model we all lusted after back in the day was the Toyota Altezza RS200.
The Japanese Domestic Market only RS200 just seemed closer to Katayama-san's original vision. Lighter and less draped in luxuries than its Lexus export equivalent, it also came equipped with the Yamaha-tuned 'Black Top' BEAMS 3S-GE engine which was a screaming 4-pot delivering 210hp. For Katayama-san, the RS200 still fell short of the mark so he did what any self-respecting engineer in his position would do. He strapped on a supercharger and upgraded the suspension on his own personal Altezza.
In doing so, Katayama-san set the precedent for uleashing the potential that he had engineered in to the XE10. It is a tuner's dream chassis which can handle a serious increase in power all wrapped up in non-fussy bodywork that makes the second generation Lexus IS (XE20) appear bloated and cumbersome.
Kayed Al-Mansoori and Mohammed Al-Hammadi set out to build a daily-use, fast street car with the target of embarrassing some exotic machinery. What better platform then than a 2002 Lexus IS 300? Although it has lost some of its sleeper-car credentials – something that has always appealed to me about the IS – it could still easily slip by under the radar. No wild bodykit or massive rear wing. No silly sized rims. Nothing overtly shouty. Nothing that would immediately make the driver of an Italian supercar sit up and show any respect for – and that would be a very big mistake.
For the initiated, the custom bonnet and headlight breather hole kinda give the game away that things are far from stock and the Mickey Thompson street radials out back hammer that point home. What you are looking at here is a fully built Supra in a pretty IS dress with a 2JZ-GTE running a massive Garrett GTX4202 Turbo.
The modifications have been carried out by RPM Speed Invention Workshop (Dubai) and the spec sheet reads like a who's who of top-end aftermarket performance manufacturers. HKS fuel rail, JE Pistons, Carillo connecting rods, Titan Motorsport cam gears, Brian Crower 280º cams, Ferrea racing springs, valves and retainers and a whole host of other trick bits. Good thing that the XE10 was also engineered with room for modifications. Yes, Katayama-san was a visionary.
The massive Garrett turbo is helped on its quest for more boost by a twin nozzle, AEM water/methanol injection kit which in turn requires more juice so the fuel system has been completely upgraded. A custom fuel cell with dual Bosch fuel pumps and a SARD in-tank pump feed the need while RC Engineering 1000cc fuel injectors squirt the money shot.
Control comes via a Motec M600, which has been tuned by Mansour Al-Suwadi, and the magic number is 850hp @8800 rpm which sounds pretty healthy to me.
I think Nobuaki Katayama would also approve.
- FULL GALLERY OF SHOTS AVAILABLE HERE - Shots courtesy of Mohammed Al-Yassi