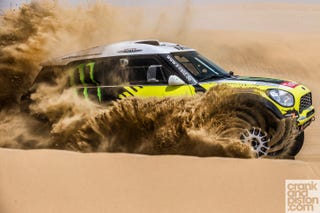 I'm a little shell-shocked as I remove my helmet. Members of the MINI X-Raid PR team are actually concerned as I struggle to form coherent sentences. Though I knew that this would be a once in a lifetime opportunity, I never expected it would have this kind of impact on me. Standing to my right is the Monster Energy X-Raid MINI ALL4 Racing endurance rally car that competed in this year's Dakar Rally. And I've just driven it.
Rewind a couple of hours. crankandpiston.com is one of only a few publications worldwide to have been invited to this drive event, and given both MINI and X-Raid Team's endurance racing records, it's an invite worth having. In 2003, Germany's X-Raid Team became the first outfit to enter a diesel-powered vehicle for the Dakar with the BMW X5, a trend still followed today. In 2011, X-Raid joined forces with MINI, winning the Abu Dhabi Desert Challenge on its debut and successfully defending Leonid Novitskiy's FIA World Cup title in its rookie campaign. In 2012, the X-Raid MINI took a one-two on its Dakar Rally debut, a feat it repeated the following season. In 2014, the X-Raid MINIs took the hat trick with a decisive podium lockout ahead of stellar opposition from Hummer and Toyota. The team's current driver line-up boasts former Dakar winners Joan 'Nani' Roma and Nasser Al-Attiyah as well as the most successful of them all, 11-time winner Stephane Peterhansel. And the team has invited me – a local lad from the North of England – to drive its Dakar winner in the desert. Nerves and excitement go hand-in-hand today like never before.
Said nerves are put to rest slightly when – at base camp, a few clicks from Dubai's Bab Al Shams desert resort – I'm introduced to X-Raid mechanical wizard, Miguel Moreira. He's been with the team since the day it started, and packs enormous experience from both the World Rally Championship and national rallying in his native Portugal among other disciplines. Having worked on the ALL4 Racing from the ground up, there's not a lot he doesn't know about either test model here today: as he mentions, "I don't need the book!"
The chassis comes from Heggemann Autosport in Germany and is five per cent larger than that on the production ready Countryman, whilst the lightweight bodywork has been manufactured in France. The Reiger Racing Suspension – THE key component for endurance rallying, Miguel explains – connects to regulation Michelin All-Terrain tyres, while the AP disc brakes use a combination of water and air-cooling to battle the ungodly desert heat. To ensure as much indestructability as possible, each 1900kg model – prepared across one month by four mechanics – conducts 15-20 days of pre-season testing in Morocco. Similar in physique the ALL4 Racing may be to the Countryman, but the MINI badges and headlights are all they have in common.