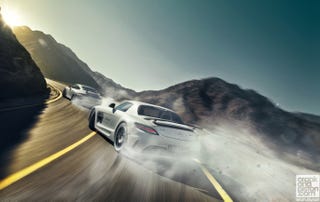 As you might imagine, the arrival into the office of a Mercedes-Benz SLS AMG Black Series and the new Porsche 911 GT3 generated quite a bit of excitement. Especially among the luminaries that head up the company. Which is how it came to pass that we're on our way for an epic day of driving with these two behemoths of sports car design, and I'm in our long-term Volkswagen Passat. Humph.
I'm assured that my time will come, and I'll hold Phil McGovern and Bassam Kronfli to those words. Because these are proper poster cars, the kind of vehicles you wouldn't put money against becoming bona fide classics.
In the red corner, we have the SLS Black – the final, ultra-honed incarnation of the short-lived but greatly acclaimed SLS. Inspired by the extremely-successful SLS GT3 race car, the Black Series revamps the already capable gullwinged supercar, dishing out a slathering of carbonfibre bodywork, a sizable rear wing and even more power – up to 622bhp from the standard car's 563. Because clearly, it needed to be faster, right?
In the blue corner, the new 991 variant of the 911 GT3 – the sportiest, most driver-focused of all 911s. Until the GT3 RS comes along, at least. This car has been very graciously loaned to us by an owner – not even Porsche Middle East has a GT3 press car for us to play with yet, and we're told this is the first one in the country. It has just 400km on the clock. Under the bonnet is a 3.8-litre flat six with 469bhp. That might seem tame compared to the big Merc, but it's still a pretty sizable chunk of power, and besides, the Porsche is some 100kg lighter than its German rival. Power isn't everything with the GT3 – it's designed to be more of a scalpel than a sledgehammer, a precision instrument that doesn't rely on brute power to provide the best driver experience. After all, it's not even the most powerful 911 in the range. Does this mean the SLS will be unwieldy in comparison?
Today, we aim to find out. Read the rest of the story HERE