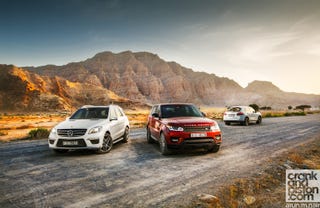 I find it quite amusing that while the world has gone SUV crazy, those that position themselves as hardcore car enthusiasts seem to have universally adopted a negative stance towards the Sports Utility Vehicle. I liken it to the music snob that goes out of their way to express just how terrible the tracks on the Top 40 countdown are, all the while insinuating that their taste in tunes is vastly more sophisticated than everyone else's because they are such huge fans of that obscure Indie rock band no one has heard of.
Twenty years ago SUVs were known simply as 4x4s and their purpose was mainly to navigate terrain that a normal car couldn't. I'm talking about the likes of the Toyota Land Cruiser, Nissan Patrol and Land Rover Discovery, that could traverse continents but weren't particularly good to drive on the road as they were incredibly heavy, pretty slow and threatened to flip onto their roof every time you turned the steering wheel. The 4×4 only started to morph into the SUV (as we know it today) when the Mercedes GL and BMW X5 arrived on the scene with a vastly more car-like demeanour than their more agricultural high-roofed cousins.
The game was changed once again when the Porsche Cayenne arrived on the scene. Despite being amongst the ugliest car designs ever sketched, the first generation SUV from Stuttgart was not only a runaway success, but it also spawned the performance SUV genre. Fast forward to today and the new (and vastly better looking) Cayenne Turbo goes up against the brutal Mercedes ML63 AMG and the fantastic all-new Range Rover Sport, which says a lot for how far the homely SUV has come. All three of the above rock over 500bhp and possess handling that would shame most sports saloons from 10 years ago, not to mention many of those on the market today.