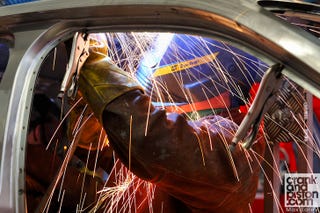 Last year, Bentley brought the EXP 9F concept car to Abu Dhabi. While it was interesting to see what Bentley's future would look like (although word has it that the production car will look rather different), my attention was taken by activities happening in the corner, away from the spotlight. Bentley had brought over two of its craftsmen to demonstrate how the various luxury elements of the range were quite literally carved, sanded, inlayed, stitched and assembled by hand.
After years of watching cars being put together in vast industrial warehouses by yellow robots, this was a breath of fresh air. I liked it. I told the guys demonstrating that I liked it. I wanted to try it. And then I forgot about it.
But months later, Bentley called me up. "Do you want to come to the factory in the UK?" they asked, "we'll show you around."
"I want to do more than that," I replied. "I want to build a car myself and drive it back to the UAE". They laughed at me for a full three minutes, and hung up. But then they called back with a compromise. Would I like to have a go at some of the craftsmanship activities I'd witnessed, see the full-scale operations of what goes into making a modern Bentley, and then wang a Mulsanne around a race track? Reluctantly, still hung-up on dreams of my own home-made car, I agreed.