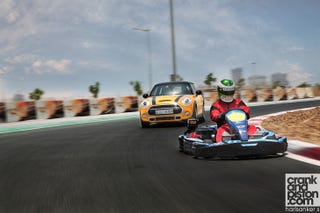 It's not often, as some of my wordier pieces on crankandpiston.com will attest, that I'm left speechless. But as I stand here, the stopwatch on my iPhone paused and bearing a lap time I can barely comprehend, it's about the closest I've ever come.
Rewind the clock a few months. Back in March, crankandpiston.com flew to Puerto Rico to test the brand new MINI, and for reasons greater than stockpiling those frequent flyer miles. With a heritage dating back to 1959, BMW Group's MINI made its first tentative steps onto hallowed ground in 2001 with a sea of criticism just waiting in the wings. As well as being as nimble and appealing as its 44-year old ancestors, the new MINI had to be much more than 'just a small BMW': it needed 'character'. A flood of orders confirmed that the first of BMW's hurdles had been triumphantly cleared.
Ironically, some 13 years later, BMW found itself in the same position. This time though, the pressure for commercial success with 'the new MINI' was considerably greater. With six new model lines established in the intervening years – including SUVs, cabriolets and estate cars, all to mixed reviews – MINI was no longer 'just' a quirky city car but a burgeoning business model. To redesign the Hatch – the centre of that growing empire – and produce a clanger would spell disaster for consumer confidence in the brand. Once again though, BMW delivered, the new Cooper proving more practical and technical than ever though no less nimble and characterful. Thanks in part to 'its typical go-kart feeling', as emphasised by both MINI's official press material and pretty much every article written on the model across the globe. And this got us thinking.
Just how accurate is this clichéd expression? Does the brand new MINI actually feel like a go-kart to drive, and if not, what is missing from the formula? We decided to find out once and for all by pitting the brand new Cooper S to a one-lap shootout around our local outdoor go-kart circuit. Against an opponent.
You join us early morning in the pitlane at the Dubai Kartdrome, where our two contenders for the day are busy being prepped for their hotlaps. The main source of interest is our Cooper S test model, a bizarre yet formidable sight squeezed as it is into one of the Kartdrome's six-foot wide pit garages. Indeed, so narrow is the gap between the door paint and the concrete wall that Ryan Trutch – Dubai Kartdrome Manager and our designated driver for the day – has difficulty sliding into the sports seat, much to my childish amusement. I do occasionally remember to be professional though, paying attention to the new MINI's looks.
At a glance, you'd be hard pushed to tell the difference between the third generation Cooper S and its predecessor, and given that the outgoing model was a rather handsome brute, that's no bad thing. The 'hallmark emotional design' of the Cooper S though comes with a re-designed front bumper and bonnet scoop for a more dynamic look, plus the time-honoured 'S' on the hexagonal front grille. It's a similar situation at the back where a new rear slip adds new energy to an otherwise familiar appearance. In-between laughing at Ryan, who's now struggling to get out, I pay particular attention to the centre-mounted twin tailpipes (a pretty cheeky addition) and the bespoke 18-inch alloy wheels, an inch bigger than those on the standard Cooper. I'm also pleased to see that MINI hasn't toned down the exterior as it has done on the inside, with Volcanic Orange and go faster stripes across the bonnet a characterful addition to the brood where perhaps fine leather upholstery and greater legroom on the inside does not.