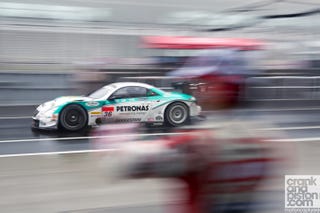 Unless you are reading this from Japan or are a big Super GT fan, Autopolis may well be the best track you've never heard of. Ironically, the reason for its failure to achieve international fame is also what makes it so special.
Situated 800m above sea level in the mountains of Japan's Kyushu island (southernmost of the four main islands), the remote location of Autopolis endows it with a very special character, whilst at the same time making it a somewhat unsuitable venue for hosting major international events despite being built to F1 standards. Not only is it quite a distance from any major cities with only winding mountain roads for access, it also seems to have its own micro-climate (as we found out the hard way). It's not at all surprising then that the eighteen corner circuit – with it's generous 50m of elevation change and stunning backdrops – is dubbed 'the Spa of Japan' by those in the know.
But while it may have struggled to attract top-level international motorsport, Autopolis has featured in the biggest and most popular tin-top series in Asia for the last decade bar a one-year hiatus in 2010: Super GT.
All is going well as we leave our hotel for the circuit on qualifying day for round seven of the 2013 Super GT season. But as we near the top of the mountain, we hit a wall of the thickest fog I've ever seen. As it turns out, it's not fog: we have literally driven into a cloud. More specifically, a rain cloud that just happens to be engulfing the top of the entire mountain. This cloud was the big story of the weekend, the relentless rain and poor visibility causing the free practice session to be cut short after just a couple of laps. After a tense five-hour wait, the track officials confirmed the unfortunate, inevitable reality: qualifying would also be abandoned for the day.
The washout was extremely disappointing for everyone involved, but in that dark cloud glinted a silver lining, namely the remarkable passion and commitment shown by the fans, the teams and the organisers. We were suddenly hit with a realisation that this is where Japanese motorsport is really different. I've never seen such a long queue for a pit walk (it started more than an hour before the gates opened, and snaked it's way back at least 300m despite the continuing rain), nor have I experienced the kind of show indicative of Super GT. Look around the paddocks and grandstands and you'll find not only guys dragging reluctant girlfriends and wives around but families with toddlers, older couples, teenage guys and girls, and even groups of young women enjoying the event. It seems every demographic is represented here in surprisingly balanced proportions.
Delve a little deeper and you'll figure out just why Super GT is so popular. It has a great relationship with its fans. Aside from the usual autograph sessions, spectators are also invited for pit-walks and onto the pre-race starting grid, so they can get up close to the cars and meet the drivers. Parents concerned about the crowds can enter the 'GT Kids Walk', a special pit walk just for families, where the youngsters can also meet numerous mascots. Other child-friendly facilities to keep the youngsters entertained include a play area and sideline shows at the 'Super GT Official Stage'. Amongst the various retailer stalls there was even a mobile chiropractic clinic to treat weary fans!
On top of all that, there is the whole 'Race Queen' phenomenon and 'Circuit Safari'. Race Queens might at first glance appear to be normal grid girls. But these young ladies are genuine celebrities in their own right (there are even magazines dedicated to them!) and seem to attract just as much attention as the drivers. During the pit walk, fans take on the role of paparazzi as the girls – skimpily dressed in team colours – pose for pictures in front of their team's car. From a Western perspective it seems a little on the sexist side, but while the attention mainly comes from the males, the ladies also have their fair share female fans too. The Race Queens seem more like team ambassadors than disposable 'rent-a-model's and are really seen as being part of their respective teams.
If Race Queens seem like a strange concept, 'Circuit Safari' is an even odder (and more brilliant) idea. Just as you can board a coach and ride on it through a safari park to watch the animals in their own environment, so too you can purchase a ticket to ride on a bus around the circuit, while the racing cars scream past you. That's right. During a special session, several lucky busloads of spectators can share the track with their heroes, and experience being up-close to the cars in their 'natural habitat'! Unthinkable in Europe.
All this love for the fans is well and truly returned come race day. If their commitment on Saturday's washout was impressive, the sheer numbers and noise of Sunday's crowd was overwhelming. Flag waving, chanting and drumming gave the grandstand on the start/finish straight an atmosphere more akin to a football field than a GT race, made all the more intense given that qualifying also had to be squeezed into an already packed schedule.
After a gruelling 300km of wheel-to-wheel racing, under the constant threat of more rain, Kazuki Nakajima and James Rossiter in the Petronas Tom's SC430 Lexus took the top step of the podium. But Japanese motorsport was surely the real winner here.
- Shots courtesy of Motion Captured
- FULL GALLERY OF SHOTS AVAILABLE HERE – CLICK -