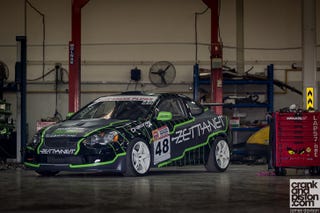 The Honda Integra Type-R you see here is now 12 years old. It has raced its way around Asia and competed in the stifling humidity of Malaysia before embarking on a new life in the NGK Racing Series, nee UAE Touring Car Championship. As you can imagine, years of such competitive abuse will take its toll: from 16 races last year, it scored just two category wins while the only other regular Honda in the field romped to 11, and the championship.
For driver Jonathan Mullan, the time was right for a new lease of life, namely a thorough overhaul, suspension work and chassis modifications and a new Andy Blackmore Design livery. Far from the occasional podium, this old dog has been taught several new tricks as it vies for the 2013/2014 NGK Racing Series Class 2 championship.
"At the end of last season, the Integra was feeling tired," Jonathan explains. "I had fuel line cracks and two alternators failed, which caused DNFs. So I decided around June last year that we" – the Irish lad and the LAP57 Racing team – "would strip the whole thing back to its shell. And in doing so we found a lot of shortfalls in the original build. There was rust and holes in the floor, so we undertook a lot of reinforcement welding to improve the chassis, and we also cut a lot of weight out of it. Even the way the harnesses had been fitted was second-rate: in the event of a real high impact I might have been in trouble!"
The Mullan Integra battling furiously with the Clio Cup contenders was a familiar sight at the Dubai Autodrome and Yas Marina last season, the grunt from the Integra's K20a engine just enough to keep the more nimble Clios at bay down the straights. Now though, thanks to new lightweight carbon fibre doors, fenders and bonnet, new AST suspension, and a more responsive Mugen transmission, manoeuvrability for the now 12-year old Type R should be significantly improved.
"Last year I couldn't get the right camber settings," Jonathan continues, "so we had to modify the lower end of the suspension: now I can get up to 4.5-degree of camber, whereas last year I was struggling to get more than 3.5 and it affected the handling.
"The supplier of our AST suspension sent me spring ratings for the front, which were 14kg. Problem was the rears weighed 28kg. Everybody was saying 'this is crazy', since the difference between the two was making the back end super stiff, and the front end was basically ploughing nose-first through the corners. So it wasn't nimble. Hindsight is a great thing!"
Given the NGK Racing Series' restrictions on power output, simply adding an extra hundred horses to the 200hp already under the bonnet wasn't an option.
"We're limited in terms of horsepower, so you could build a super engine but it's no good to you. So the engine is the same, and we've just renewed bearings and things like that.
"We have though changed cooling at the front end. At the last race we were struggling with overheating, so we've changed from the conventional air intake setup to TODA ITBs (Individual throttle Body). Off the line last year, I was generally faster than Rupesh [Channake] but in the corners he just pulled away. And we reckon that is because he had much more torque and much more response out of the corners. We hope to have improved that."
The other more visually striking change is the new Andy Blackmore Design livery. The matt black paint of last year – and several hundred other coats from the years beforehand if it comes to that – has now been stripped, a green/grey sponsor-laden design having taken its place courtesy of Foilacar in Dubai (a matching design of which will also adorn Jonathan's helmet). Whilst upping the Type-R's performance was crucial, its new look was just as important.
"I liked Andy's positive attitude and how enthusiastic he was," Jonathan explains. "I liked his designs with the Saudi Falcons" – Andy's designs adorn not only the team's Porsche GT3 Challenge Cup Middle East contenders but also the Formula 2000 single-seater and its BMW Z4 – "and I wanted something a bit modern and unique. He came back initially with about eight concepts, and the one he recommended was the one we went with. I thought if that's the one he likes and feels passionate about, that's the one he's going to do the best job on.
"It's a great design and it's important for me personally too. I've company I've worked with for seven years – EC Harris International Ltd – is on it, and for them to come on-board and support me is a big thing. Also, the second sponsor I have – Zettanet – have the same corporate colours, so it all tied together nicely!"
Having completed only one day of testing, the full potential of the new and improved Integra Type-R will only be realised at this weekend's opening round at Yas Marina. Given the disappointments of last year though, the only way – surely – is up. And that might even include a Dubai 24 Hours entry too.
"We took the view of preparing the car potentially for 24-hour racing, so now it has all the brackets and fittings for a full air jack system and a bolt-on big fuel tank. I would say it's 50:50 at this stage whether or not we compete, and it would depend purely on how the first [NGK] few races go.
"But I think it will be close this year since the Hondas and Clios are not so far apart. Okay, Rupesh had the edge last year, but once he had ballast applied he was certainly within arm's reach. And we really hope there will be more competitors. It's really important that the season unfolds and increases in interest rather than taper off. There should be four Hondas and five Clios at the first race, and I've heard that there might be another Clio coming from the UK."
Here's hoping then that the next time Jonathan Mullan cruises down pitroad it's towards victory lane, and not as a result of a cracked fuel line.
- FULL GALLERY OF SHOTS AVAILABLE HERE – CLICK -
Jonathan would like to thank the following people:
"I'd firstly like to thank LAP57 Racing for an amazing re-build, and am very appreciative of the Support from Zettanet LLC and EC Harris International Ltd. I also have a silent sponsor who is a huge motorsport fan to whom I am very grateful. My thanks also to Richard at Foilacar (Dubai) for a quality application of the livery
"I'd also like to thank Andy Blackmore, who was a pleasure to work with, for his superb livery design. Another reason why I opted for this was to boost the profile of the NGK Racing Series, the car, Lap57 Racing and our sponsors. I sincerely hope the unique design will be photographed many times during the season."