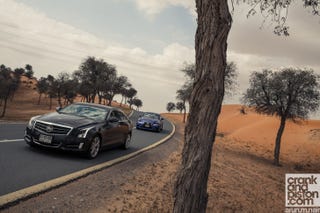 So you're after a new premium mid-size saloon. You want a bit of poke, a good amount of style without being too flashy, and it has to be comfortable as well as feature a performance element. Basically, you want everything. Where do you go? Traditionally, you'd head straight to Germany and check out a BMW 3 Series, an Audi A4 or a Mercedes-Benz C-Class. The big Teutonic three have long been the go-to cars if you want all your saloon boxes ticked. But things are changing. Here are a couple of cars at the face of the revolution. For too long, Europe has had things its own way, but now America and Japan are fighting back.
First up, from the land of the rising sun, the Lexus IS350 F Sport. Lexus has been upping its game relentlessly over recent years, and the introduction of the LFA supercar in 2009 gave new impetus to a more dynamic focus. This F Sport variant adds flashier visuals, stiffer suspension and other sporty frills to the standard IS350. It keeps the 3.5-litre V6 engine, which produces 306bhp for the rear wheels to enjoy.
From the US of A, the Cadillac ATS. This is a car I'm already very familiar with, having driven one from Germany to Abu Dhabi. It marked a massive improvement in quality for Cadillac, dispelling almost all of the traditional snarks about US cars regarding quality and innovation, and led the charge of new products from Caddy that most recently includes the new CTS. Under the ATS' bonnet is a 3.6-litre V6, producing 321bhp, also to the rear wheels.