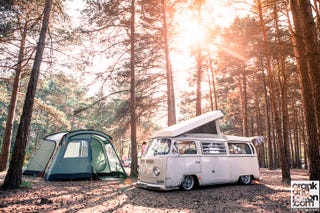 Life on the open road is a dream any self-respecting petrol head thinks about at least once a year. That epic road trip in a poster car, carving up ribbons of mountain tarmac, roaring through tunnels over and over again, soaking in the sounds of the exhaust reverberating off the walls as you hold on tight, bathing in motoring nirvana. All sounds good doesn't it?
Now add in a wife and two kids that want to come along for the journey. Out goes the poster car and in comes something far more useful and, dare I say it, less sexy.
It was that desire to go on road trips and explore Europe during the oppressive summer months in the Middle East that lead me to contact the only man I could ever trust; Ben Lewis. Ben is based in the UK and is the proprietor of Evil Ben's. As hoped, he stepped up to assist in creating something I'd wanted for years – an early (1968) Volkswagen Type 2 Westfalia. That early pre-intercooled 911 Turbo just wouldn't cut it with the family onboard.
The rest of the story is HERE